About us
Our Customers all over the world
Visit us in Schoenwald: https://www.schoenwald.net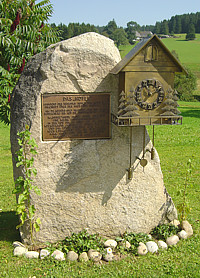 The Black Forest and its Cuckoo Clocks are world famous. In the year 1737, the first Cuckoo Clock was developped by Franz Ketterer, a clockmaker in our city Schoenwald in the Black Forest. With the style and design, plus the affectionately and detailed wood-carvings; the system of the call of the cuckoo and also the mechanical clock movement are maintained to this day. The unique styles have made the Cuckoo Clock a timeless design.
Our Cuckoo Clocks are only made with the robust rackstrike movement. This movement allows turning the hands left and right without endangering the mechanics of the movement.
All our clocks are meticulously inspected for the running and accuracy, In this way, we have the best guarantee for impeccable and reliable function. The wood-carvings we use are made in the Black Forest - without exeption. We prefer to use clock parts coming from the area around Schoenwald.